Competing Adult-Use Measures Still Making the Rounds in Ohio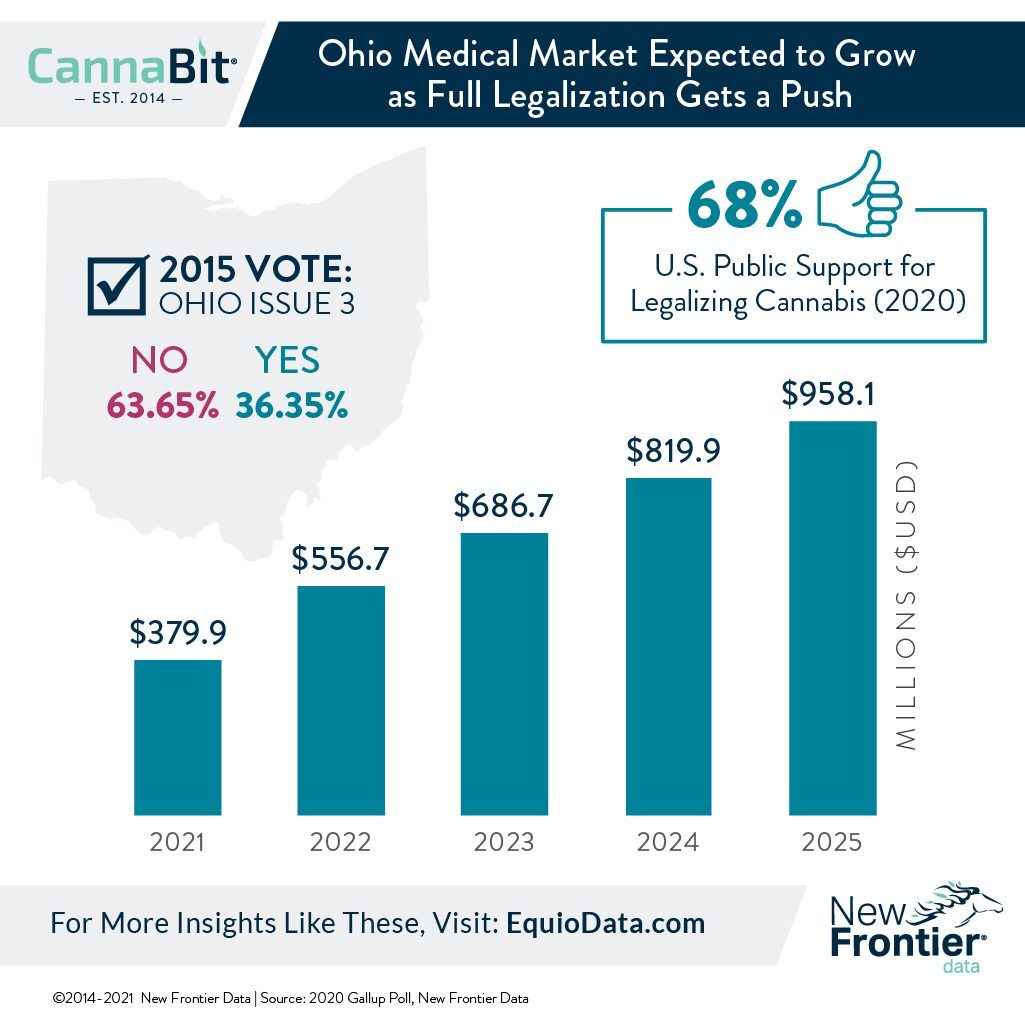 By Noah Tomares, Research Analyst, New Frontier Data
Last month, Ohio lawmakers formally introduced a bill to legalize the possession, production, and sale of adult-use cannabis. The bill would permit possession of up to 5 ounces of cannabis for adults ages 21 or older, and allow them to cultivate up to 12 plants for personal use.
For its part, the Coalition to Regulate Marijuana Like Alcohol (CTRMLA) respectively launched its ballot initiative proposing to legalize possession of up to 2.5 ounces of cannabis and up to 15 grams of concentrates for adults aged 21 and older, while permitting individuals to grow up to 6 plants for personal use, with a maximum of 12 plants per household.
The ballot measure was initially rejected by the office of the Attorney General, which found that the initiative's summary "[did] not properly advise a potential signer of a proposed measure's character and limitations." A revised measure with new language has been subsequently approved by the Attorney General; advocates will need to start gathering signatures in earnest to qualify for the ballot.
It is not the first time that Ohio has grappled with cannabis legalization. Medical cannabis has been legal there since 2016, resulting in 57 Ohio dispensaries and plans to license another 73. With nearly 190,000 patients as of April, Ohio's Medical Cannabis industry is projected to grow steadily over the next few years.
While the medical cannabis market has flourished in Ohio, adult-use cannabis has struggled to find support. In 2015, 64% of voters rejected Ohio Issue 3, which called for the legal use, cultivation, and sale of cannabis. Efforts to put cannabis back on the ballot in 2020 were stymied by the COVID-19 pandemic. Advocates have confidence that a vote in the next election cycle could turn out quite differently.
Since Issue 3 was rejected, national popular support for cannabis legalization has steadily risen. Last year, a record 68% of Americans told Gallup pollsters that marijuana should be legalized. In July, nearly half of U.S. adults claimed to have consumed cannabis at some point during their lives. Nevertheless, several states have struggled to translate such support into practical policies.
Technical hurdles have likewise hampered some legalization efforts elsewhere. In the Sunshine State, Make It Legal Florida's petition had to start re-collecting signatures after the Florida Supreme Court argued their ballot summary was "affirmatively misleading." The summary said that adult-use cannabis would be made lawful in the state without explicitly acknowledging that federal policy would remain unchanged, and that cannabis would remain illegal under federal law.
In Nebraska, a medical cannabis legalization measure was invalidated for violating the state's single-subject rule. A similar line of reasoning was used to nullify voter-approved legalization in South Dakota.
With advocates and lawmakers respectively attempting to advance competing cannabis agendas, Ohio's predicament may remind readers of the situation which Mississippians faced in November. Last year, voters in the Magnolia State were presented with two options: the advocate advanced Initiative 65, and the lawmaker-promoted (and more restrictive) Alternative 65A.
Mississippi voters overwhelmingly supported Initiative 65, but a bureaucratic technicality allowed the Mississippi Supreme Court to overturn the voter-approved initiative. Efforts to draft a compromise bill remain underway.
While individual states battle it out, Senate Majority Leader Chuck Schumer has informally released a draft of the Cannabis Administration and Opportunity Act, introducing further uncertainty for the cannabis industry writ large. For more information on the bill and its potential impact on the U.S. legal cannabis industry, keep an eye out this week for New Frontier Data's latest report: Up in Smoke? An Analysis of the Cannabis Administration & Opportunity Act.